Van Halen Invasion and Lucky 13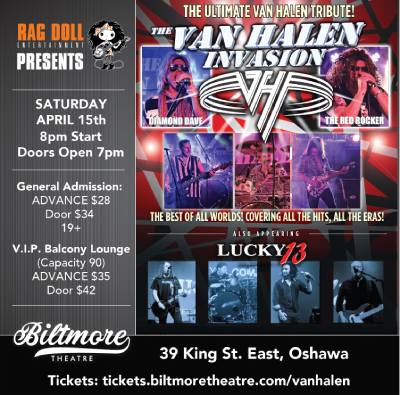 THE VAN HALEN INVASION
BRINGING BACK THE FUN!!
The Van Halen Invasion Show is about having fun. When it comes to a Party Atmosphere,
Van Halen's music is the perfect fit. This Rock Solid Band delivers the Greatest Hits from the
Diamond David Lee Roth and The Red Rocker Sammy Hagar eras with unsurpassed skill. The
response to the Van Halen Invasion show has been outstanding. From the first power chord
to the last encore you will "
Jump
" out of your seats to "
Dance The Night Away
" and sing
along to every song.
The Van Halen Invasion
show is unmatched. No other Van Halen tribute brings the entire
package like this; two dynamic frontmen portraying the rival lead singers in voice, costume
and attitude, while backed by a band of veteran musicians known for their professional
attitude and showmanship. Plus a stage set reminiscent of Van Halen's glory days of arena
rock. From the multitude of guitar cabinets, the enormous drum kit, all the iconic Edward
Van Halen guitars and many Michael Anthony replica bass guitars. The production value is
unsurpassed.
THIS WILL BE A NIGHT OF BLISTERING VAN HALEN ROCK'N ROLL!!
With Special Guests
Lucky13
Bringing you breathtaking renditions of your favourite Hit Songs!!
Formed 20+ years ago, Lucky13 is a band of 4 Super Experienced Musicians that will start
our evening with a fabulous list of songs we all know and cherish from artists ranging from:
Peter Gabriel, Queen, Cheap Trick, The Killers, Paul McCartney, The Cars, The Clash and so
many more.....
You'll be left saying ...."Wow, I've never heard a cover band even attempt that song!"
Presented By: RAG DOLL Entertainment
Enjoy both bands live Saturday, April 15th 2023
19+
Doors 7PM
GA Standing 1 st Floor
Mezzanine VIP Tickets (Limited Capacity, Upstairs Bar, Washrooms & Seating)