When In Rome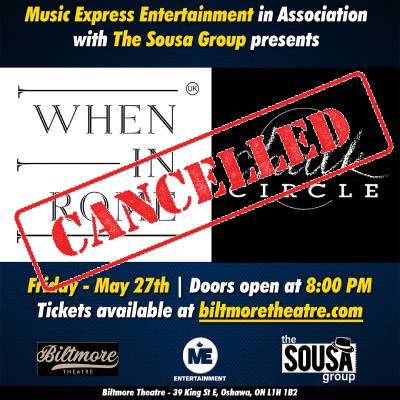 Due to circumstances beyond the control of The Biltmore Theatre, the presenter of the event When In Rome has cancelled the performance.
All tickets purchases through The Biltmore Theatre have been cancelled and a refund has been issued back to the purchasers card on file. For any concerns please feel free to reach out directly to The Biltmore Theatre at 9054383939
When in Rome:

When in Rome are an English synth-pop/new wave group from Manchester England, consisting of vocalists Clive Farrington and Andrew Mann. They are best known for their 1988 single "The Promise", which went to #1 in the US Dance charts. The Promise was prominently featured in Napoleon Dynamite and is Jimmy Fallon's (Tonight Show Host) favourite song of all time.



Other hits include Heaven Knows, If Only, Sight Of Your Tears, Wide Wide Sea. Released their brand new single in 2021 "To Fix Us' of their forth coming album.



Chalk Circle:

Chalk Circle's original members Chris Tait, Brad Hopkins from Newcastle and Derrick Murphy from Bowmanvile, Ontario moved to Toronto in 1983/84 and became a four-piece band by adding keyboardist Tad Winklarz in 1985.

The band gained notoriety by the mid-eighties with solid National radio airplay. They had charted radio success with songs such as "April Fool", "This Mourning", "Me Myself and I" and the T. Rex classic "20th Century Boy". Their albums were released in Canada, Germany and Japan with 1987's Album "Mending Wall" achieving certified "Gold" status in Canada. During that time they headlined numerous National tours and toured with the likes of Rush, Crowded House, and Tears for Fears. In 1989 they also played festival shows in East Berlin, Germany six months prior to the collapse of the Berlin Wall. The band disbanded in 1990.



In 2006 the band released the 20th Century Masters best of album and played its first reunion, a sold out show at Lee's Palace in Toronto. In 2011 the 40th anniversary of the Juno Awards prompted the band to do it again. Events at the Horseshoe Tavern in Toronto featured live performances of Canadian artists from the 70', 80's and the 90's to celebrate the milestone. Chalk Circle performed on the 80's night. Blue Peter Keyboardist Jason Sniderman joined original members Chris, Derrick and Brad to round out the line up. Jason has been a fulltime member ever since.



Now their back on the road in 2022 to fulfill their fans demands for live performances.