Daniel Raymond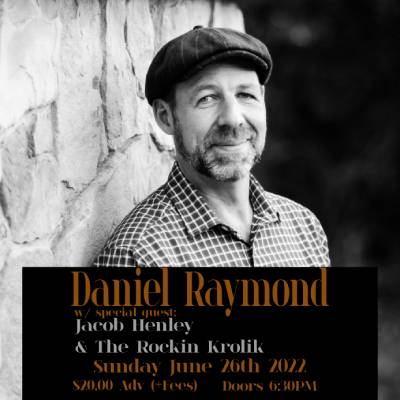 Join us Sunday June 26th to celebrate the release of: Suspension, the second release – and first full-length album – from Oshawa singer-songwriter Daniel Raymond. With special guest openers: Jacob Henley and The Rockin Krolik

A portion of the proceeds from the show will go to Feed the Need in Durham and the Downie Wenjack Foundation
Many of the songs on the recording focus on potential turning points –
moments of temporal and psychological suspension during which major existential decisions or
changes occur.
The project was recorded during the summer and fall of 2022. Similar to his 2020 EP 'Soft',
'Suspension' was recorded at Northumberland Music Studio – a barn converted into a music
studio in rural Ontario. The recording, produced by Andy Thompson, captures the warmth and
intimacy of Raymond's songs and of the setting in which they were recorded. Many of the songs
feature musical contributions from members of his former band 'Mitchells Corner' – Vince
Montagano and Michael Minnie (also former members of the Leslie Spit Tree-o). The band
played in the Toronto music scene and across Southern Ontario in the1990s and toured
Canada supporting their two recordings, "The Children of the Happy Parents" and "Mitchell's
Corner" before disbanding in 1995. 'Suspension' also features two duets with Raymond's wife
Jennifer Lynn – 'Stalemate' and 'You're The One That I Want' – which is a more moody re-
visioning of the campy classic from 'Grease'.